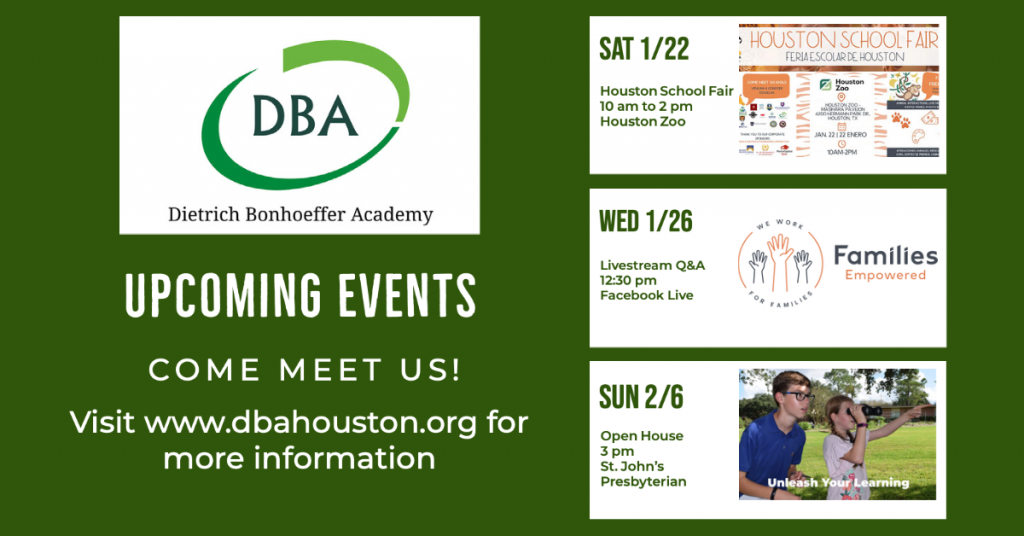 Dietrich Bonhoeffer Academy is pleased to announce a series of admissions events beginning this January. Students and their families will be able to discover more about our innovative learning program and meet the educators leading our dynamic middle school community. Check out our Admissions Calendar for more details about these opportunities to connect.
Saturday, January 22, 10:00 AM to 2:00 PM
Come visit us at the Houston Zoo as DBA participates in the Houston School Fair hosted by Families Empowered. Stop by our booth to learn more about DBA and pick up a treat while you are at it. The first 300 people in attendance at this event will receive free admission into the zoo. Registration is required, so click below for more information.
Wednesday, January 26, 12:30 PM
Tune in to see incoming Head of School Mr. Eric Lerch sit down for a conversation about DBA with Families Empowered. In addition to hearing more about the school, viewers will have the chance to submit questions as part of the chat. Check back soon for more details about participating in this livestream event.
Sunday, February 6, 3:00 PM
Join us for the highlight of our admissions season hosted at the future home of DBA. Students and their families will enjoy a sample of our unique classroom experience while learning more about the school. Click below to RSVP for this event that you won't want to miss!